Exceptional patient care takes exceptional caregivers. We've created an environment where caregivers feel like family and where the things that matter most are everyday – like constant learning, intense collaboration and caring the right way for the right reasons. Because when every challenge comes with unwavering support, we are all stronger.
Mission & values
Culture
Diversity & inclusion
We've made it our mission to care for life, research for health and educate those who serve.
That's always been our north star. And it's led us to deliver an exceptional level of care alongside some of the industry's most gifted, hardworking caregivers. Our mission also helped us to define our vision: to be the best place for care anywhere and the best place to work in healthcare.
In delivering care, we recognize four priorities: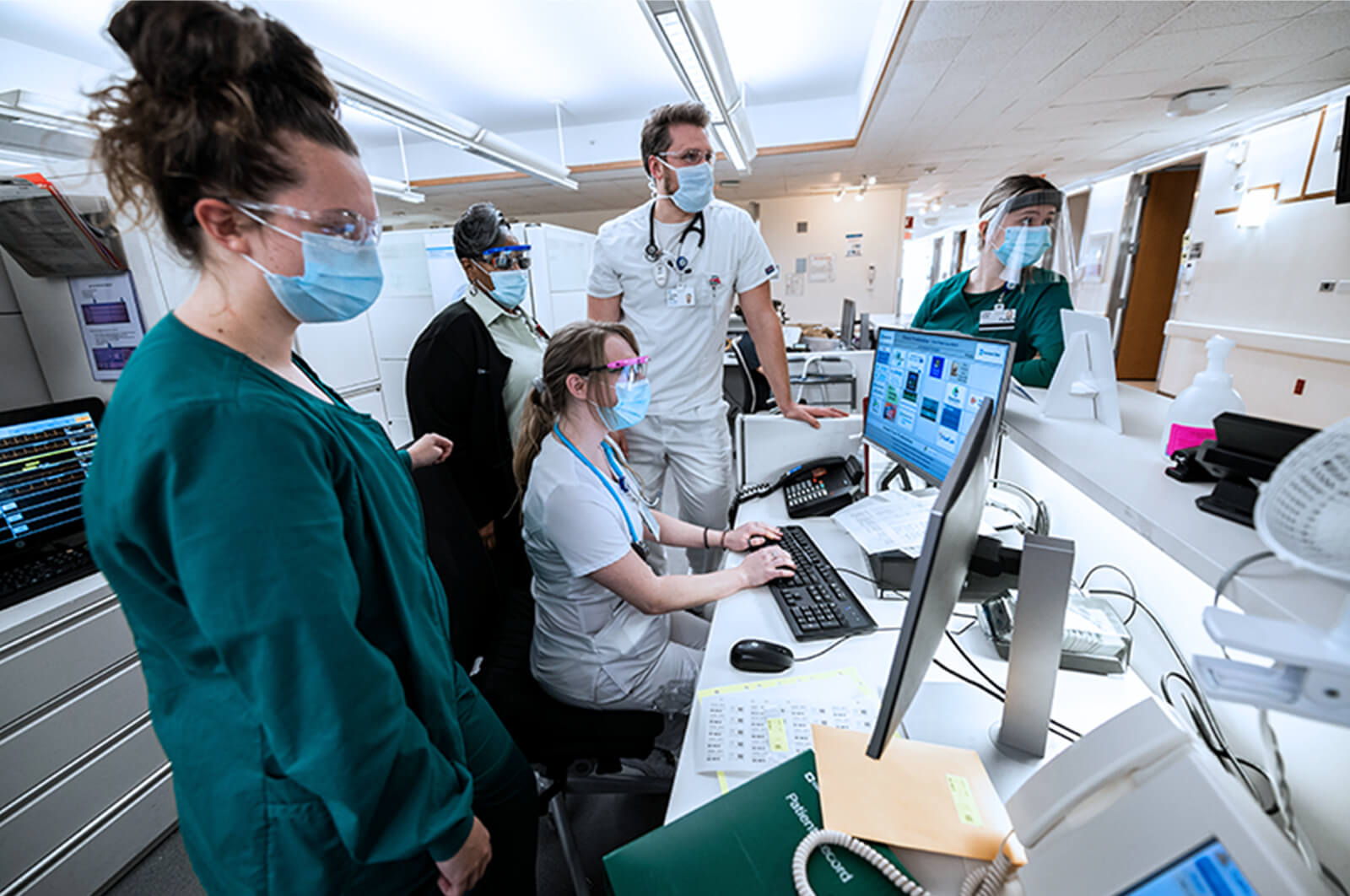 We put over mission and vision into practice with six key values:
Safety & quality

Safety & quality

We ensure the highest standards and excellent outcomes through effective interactions, decision-making, and actions.

Empathy

Empathy

We imagine what another person is going through, work to alleviate suffering and create joy whenever possible.

Teamwork

Teamwork

We work together to ensure the best possible care, safety and well-being of our patients and fellow caregivers.

Integrity

Integrity

We adhere to high moral principles and professional standards by a commitment to honesty, confidentiality, trust, respect and transparency.

Inclusion

Inclusion

We intentionally create an environment of compassionate belonging where all are valued and respected.

Innovation

Innovation

We drive small and large changes to transform healthcare everywhere.
Exposure and experiences
We're a world-class hospital with a unique and varied caseload. Here, each moment is a new chance to be challenged, to learn and to grow as a caregiver.
Browse the stories below and find out firsthand how experiences build experience.
Developing our people
We're always learning. Our multi-disciplinary teams and practice of knowledge sharing allows all of our caregivers to be students of each other. Plus, there are the trainings, courses and mentorship opportunities that round out our culture of learning.
From there, caregivers are invited to explore our Career Growth Pathways, a suite of resources that helps them enrich their current skill set, explore other roles, move latterly throughout the organization, or grow vertically within their team.
And, as they further their careers, caregivers might set their sights on a role as a leader in their discipline. Our newly launched Mandel Global Leadership & Learning Institute (GLLI) is a chance to tap into experiential learning, simulations, assessments and research-driven content and progress into a leader, ready to solve future healthcare delivery issues.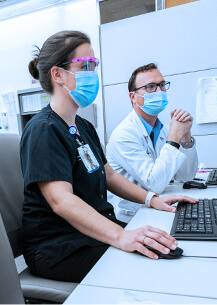 Caring for our caregivers
In 2018, we set out on a bold new way to look after our own people. The mission of the Office of Caregiver Experience (OCE) is to support the emotional, physical, spiritual and social well-being of caregivers. Across multiple initiatives, resources and events, our Caregiver Support Team provides the things that matter most.
This past year, throughout the challenges of the COVID-19 pandemic, our caregivers have continued to provide exceptional care to patients. And as an organization, we've supported our teams every step of the way.
Giving gratitude

Since the start of COVID-19, we've been doing all we can for our people on the frontlines — like delivering 90k free meals for caregivers and their families.

Saving the day — every day

It's a fact — our caregivers are heroes. So partnering with a local bakery to distribute "hero" cookies is the least we can do.

Hope in the toughest moments

In critical moments for our caregivers, the Caregiver Support Team takes action, offering a personal phone call and other resources to support them.
Through programs and initiatives led by our Office of Diversity & Inclusion, we're creating an environment of belonging — where everyone is valued and respected.
Workforce
We're hiring and developing diverse caregivers to reflect the communities we serve. Cleveland Clinic also offers pipeline programs for undergraduate and graduate-level under-represented minority students to increase representation in health professions.
Workplace
Through seminars, training and career development programs, our caregivers are expanding their knowledge and skill-sets to deliver equitable care. Plus, our 10 affinity-based Employee Resource Groups (ERGs) and 13 location-based Diversity Councils (DCs) serve as ambassadors to recruit future talent and promote health equity throughout the system and communities we serve.
Marketplace
Cleveland Clinic is committed to ending long-standing systemic racism and bias that create health disparities. We're taking an active role to further develop strategies that guide our pursuit of true equality, justice and care for our patients and community. Through our Supplier Diversity program, we're building more inclusive business partnerships. That includes connecting with businesses that are 51% owned and operated by minorities, women, veterans, service-disabled veterans or LGBTQ+ individuals.
Awards and accomplishments
Our Office of Diversity & Inclusion is proud to be recognized for their efforts in empowering caregivers and our diverse communities.
DiversityInc Top 10 Hospitals and Health Systems, Ranked #3

Human Rights Campaign Healthcare Equality Index (HEI), 2019 Top Performer in LGBTQ Healthcare Equality

Top 25 ERG & Council Honors Awards our winning ERGs including:

#5 – SALUD

#14 – ClinicPride

# 17 – Military/Veterans

Additionally, our in-person and virtual D&I initiatives reached more than 65,000 caregivers and community stakeholders.